HEADS UP! The ElkBros Crew are GONE HUNTING!
Just a heads up that our crew will be working hunts throughout the fall. We will take orders and ship during the season sporadically when back at home base. For all our Grinders out there… keep the sun at your back, the wind in your face and always MAKE YOUR OWN LUCK. Eeeeeuuuugh!
Free Shipping on Purchases of $50 or More!
Introducing the SOLOIST!
Created by ElkBros Coach Joe Giglia, the SOLOIST is the bugle tube with the secret sauce to Coach Giglia's 90% plus success rate over the last 40 years.
Lightweight, flexible and useable with minimal movement and great sound, the SOLOIST allows the hunter to face forward while calling behind, bringing bulls into effective killing range.

This tube is not meant to win contests or be the loudest on the market y'all... It's meant to kill elk.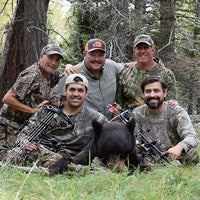 We ride the river...TOGETHER!
Here at ElkBros, we are as diverse as it gets. All from different places, ethnic backgrounds, religions and political beliefs. But our passion for the hunt and our friendships make us more the same than different. We are a team in the purest sense of the word. The success of one is the success of all.
Our goal as Elk Hunting Coaches is to teach, guide and share our passion in hopes of helping others experience the outdoors, become successful elk hunters and create incredible memories.  
Show your Persistence

Our Grinders take pride in turning problems into possibilities
Show your Passion

Our Grinders re-define the perfect situation
Show your Grit

Our Grinders know where there is a Will, there's a Way
Show your Persistence
Our Grinders take pride in turning problems into possibilities
Show your Passion
Our Grinders re-define the perfect situation
Show your Grit
Our Grinders know where there is a Will, there's a Way